It's Friday y'all!  Had a really nice day yesterday.
I woke up to do Allissa's  virtual Thanksgiving 5K and it was 18 degrees outside.  Too cold!  So, I decided to go to the gym when it opened at 8 am.  That meant breakfast:
Yeah, it was dark out LOL!  I was up before 6:30.  I had to work 1/2 a day on Thanksgiving, so I got to work doing what work there was.  It ran out quickly.
When the gym opened, I hit the treadmill.  There were a hand full of people there, which was nice to see.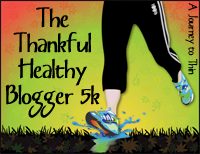 I ran the 3.1 for the virtual – and then just continued on to do 5 miles! This was the longest I have run since I herniated my disk back in April.  I kept a good pace for the last 2 miles at 5.9 mph, so I was super duper pleased with that 😀
Anyone following my blog knows I was avoiding the eggnog lattes until Thanksgiving day as a challenge to myself.  Well – Starbucks was open on Thanksgiving, so John and I headed out to partake!  I had them do half eggnog and half skim (for whatever *that* is worth).
You know how sometimes you build something up in your mind and it was not worth it?  Well – this was worth it!! Yum!!!!
I worked some more and then we packed up our offerings for Turkey Day and headed down to my sister's house.
It was pell mell right when we got there as dinner was almost ready and we were the last to arrive.  We all seem to have assigned roles.  Mine is making gravy and John is the turkey carver.
This big boy was 25 pounds and from a local raiser.   It was delicious (brined a la Alton Brown).
Table centerpiece:
We had 11 people at dinner.  It was so hectic I actually did not get many pictures LOL!
My plate:
2 kinds of stuffing, sweet potatoes, green beans, and the bird.
My side plate:
Pom seeds, cranberry bread and cranberry sauce!
I had a couple nibbles more of one of the stuffings and then I stopped eating.  I was pretty happy with myself there.  Getting there right near eating time actually worked in my favor because I didn't eat a bunch of cheese and crackers and nuts before the meal.
I actually had to work more, and set up my computer while there.  Good thing I can do my job remotely.  Everyone else was watching football and hunting while I finished up my work.  I do have to say it was challenging with 3 kids and 5 dogs to hear the doctors!
When I finished up, it was dessert time!  My dad made pumpkin pie and John and I made gingerbread cupcakes:
I had 2 cupcakes (cause they are small LOL).  So good.
We had a fun time playing Scattegories after that.  I love games that make you laugh.  I actually just like playing games.
A good day was had.  Lots of company, lots of noise, lots of food (but not too much), and football (Geaux Saints!!).   I was satisfied and not stuffed, so I hit that goal for the day.
Now it is Friday and I am working.  It's also Hot 100 Update time!
Maintain my weight. Scale up a little today, no surprise there after Thanksgiving.

No eggnog lattes until Thanksgiving day!   I made it to Thanksgiving and the eggnog latte was delicious!.

Do the duathlon and at least 1 more 5K race before the end of the year. Did the home duathlon.  5k done on October 30th.   virtual 5K done on Thanksgiving day!
Do stretching exercises 4 days a week at least.  Did 4 days.

Visit one new blog each week that is participating in the Hot 100 Challenge and cheer them on.  Need to visit this weekend.

Do one no-added sugar day each week.  Completed
An okay week.  I need to really buckle down again.  Hope you all are having a great weekend!
Question:  Do you have games you like to play with family?